Sarees
Show Filters
Showing 1–30 of 359 results
Showing 1–30 of 359 results
                        BUY SAREES
Sarees – Elegant and Modern Collections Online
The saree is one of the most elegant and sophisticated outfits a woman can wear. It highlights the contours of your body in a pleasing aesthetic way. It can be styled in a myriad of ways to achieve your desired look. Whether you want to look traditional or modern chic, there are options for every occasion and style.
Sutisaree brings you the best collections from 100% original brands. From traditional banarasi sarees to opulent georgette ones, you can find all kinds here. Style them with a jacket to add your own stylish twist. Check out the expansive collection of traditional and fancy sarees from the comfort of your house only on Sutisarees.
Trending and Traditional Sarees for Every Style
Listed below are some of the popular styles available online on Myntra:
COTTON – Nothing can match the charm and elegance of a pure cotton saree. Myntra brings you a selection of these fashionable summer outfits in neutral and vibrant colours. They are the perfect replacement for regular Handloom Saree for the summer.
GEORGETTE – If you love flowy fabrics that define and highlight your curves, you should opt for a georgette saree. Georgette has a very charming appeal and suits almost all body types. You can opt for a simple one with a minimal border or go all-in with rich embroidered or embellished ones.
SILK – Looking for something to wear at traditional family functions? Silk or Kanchipuram saree is the answer to your query. Traditional and luxurious, they are perfect for weddings and ethnic events.
ORGANZA – Want to look feminine and ethereal? Organza sarees will help you with that. The shiny and sheer fabric of these stylish pieces makes for a dazzling look.
An Abundance of Sari Styling Options
Listed below are some tips on how to style them for different occasions:
Want to make an impression at your graduation party? Opt for an embellished chiffon saree in oxblood or emerald green colour. Style it with open-toed heels, gemstone studs, and a dark lip for a striking look.
Ditch the Khadi Saree on the next sangeet party for a much more flattering and mature outfit. Choose a Jamdani Saree with mirror work in pink or yellow for an Instagram-worthy look.
Hate peeking bra straps under blouses? Opt for padded blouses for utmost comfort and convenience.
Style a ruffled red saree with a high pony and oversized earrings for a retro look.
Opt for a traditional saree in cotton with a high-neck blouse for a refined look. Style it with a low bun and minimal makeup.
Bestselling Saree Prices Online in India 2021 on Sutisaree.com
| | | |
| --- | --- | --- |
| Sno | Latest Saree Online | Saree Prices |
| 1 | Sutisaree Plain Single Color Traditional Khadi Cotton Silk Sarees | Rs. 699 |
| 2 | Red and Black Pompom Cotton Silk Handloom Saree With Blouse Piece | Rs. 549 |
| 3 | White Woven Handloom Begumpuri Saree With Blouse Piece SUTI-BGMP-22695 | Rs. 580 |
| 4 | Black Woven Handloom Begumpuri Saree With Blouse Piece SUTI-BGMP-22691 | Rs. 850 |
| 5 | Women's Pure khadi natural Cotton Single Color Saree With Blouse Piece | Rs. 649 |
| 6 | White Woven Handloom Begumpuri Saree With Blouse Piece SUTI-BGMP-22686 | Rs. 850 |
| 7 | Traditional Silk Jamdani Saree and Multicolored Thread Work | Rs. 1599 |
| 8 | White Woven Handloom Begumpuri Saree With Blouse Piece SUTI-BGMP-22695 (Copy) | Rs. 849 |
| 9 | Plain Black Color Traditional Khadi Cotton Silk Sarees | Rs. 699 |
| 10 | Peacock Blue Cotton Handloom Saree With Basil Green Pallu | Rs. 699 |
Buy Sarees Online on Sutisaree
Myntra's varied choices from the best brands in the industry make it the perfect place for saree shopping. Whether you are looking to buy one for yourself or are on the hunt for gifting options, our collection will not disappoint.
You can even browse through stylish accessories and jewellery to complement traditional as well as modern outfits. Sign up on Myntra to enjoy a memorable shopping experience.
Trendy Sarees on Myntra
| Jamdani Saree | Handloom Saree | Khadi Saree | Dhoti Saree |
| --- | --- | --- | --- |
OTHER CATEGORIES
Shop by Ocation, Wedding Sarees,Fastive Sarees, Cotton Saree, Pooja Saree,
HOW TO DRAPE A SAREE PERFECTLY
The Sarees are undoubtedly is one of the most gorgeous outfits for every Indian woman. Due to its adorable beauty, this tradition is even adopting through all around the world. So, How to wear a Saree perfectly
NECESSARY ITEMS:
A Saree

A Blouse

A Trouser

Accessories

A mirror
TUCKING
Start by tucking your Saree into your trousers.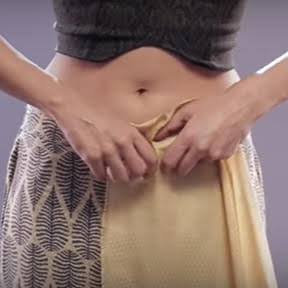 DRAPING
Take the other end of the Saree and drape it around your waist and over your left shoulder.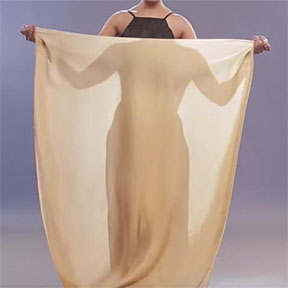 MAKING PLEATS
Now, take the remaining fabric and start making pleats of approximately four inches.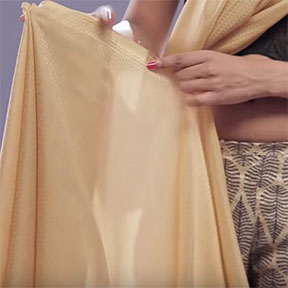 TUCK THE PLEATS
Neatly tuck the pleats into the front of your trousers.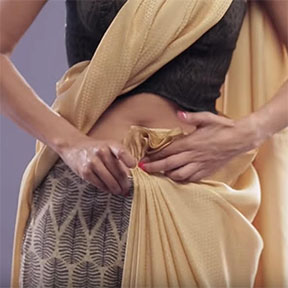 TWIST & DRAPE
Secure with safety pins & twist and drape the Saree(pallu) across the front of your body.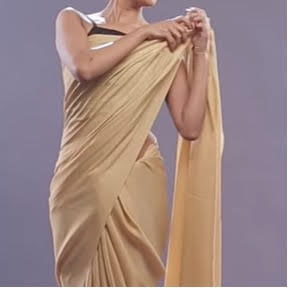 Video: How to Drape a Saree Perfectly Part 1 – Women's Style Guide